My dear sista Aretha, I so mourn your transition.  Song by song I play, tribute by tribute I read.  I grieve in sorrow and glory. Daily, my tears run for the poignant and profound touch of you upon us.  The pain and tenderness in your loving, soul baring voice. The ferocious clarity of timbre about what we — women, Black folks, and anyone deserve in relationships.  Respect.   The actions you took in its name for you and for us.  I soar, reading that you insisted on being paid up front, cash money.  Go on sista, I say!  Go on me! I swell, reading you offered to put up Angela Davis' bail, back in the day.  I think you all kept that down low, understandably, because I never heard tell, and I followed Angela and George Jackson at the time.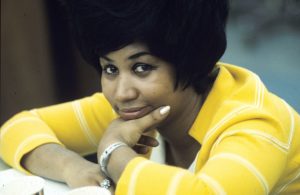 I Say a Little Prayer For You my sista, as you join the ancestral spirits, that you know the magnitude of your gifts delivered here.  That you rejoice in knowing they will be here for all time, all generations.
As the weeks go by I will drink from and cry to the deep well of songs you bequeathed us.  I will sing along with some, their words imprinted in my body, remembering the places and people that accompanied them. Others, I will hear for the first time.
My dear Aretha, I run over with the majesty of you, and  I Don't Want to Lose this Dream either.
Thank you for raising it up, holding it down.