I walk from my hotel to the National Memorial for Peace and Justice, what I most often call the Lynching Memorial.  It is a few blocks and turns uphill on a mid-afternoon weekday.  It seems like Indian summer, as the sun fires down, but maybe it's an ordinary deep South, mid-October day. Flowers line the walkway into what reveals itself to be the size of a park encircling the actual exhibit. There is great care evident in the ardent green grass, the manicure of the grounds, the clean uncluttered space, and the quiet.  I know almost instantly that I have entered sacred space.
I did not bring my weighty Nikon 35 mm as I planned.  I have my eye and my cell phone camera.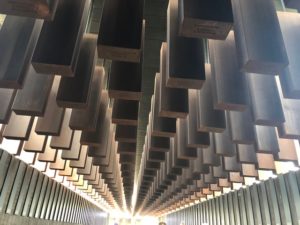 My eyes behold slab after slab hanging above me, organized by State, by counties, engraved with names and dates of death.  Columns and rows stretch ahead of me, suspended from on high the length of the four, open sides of the structure.  The list of names on some slabs is very long, telling me the terror in those counties moved especially thick through the lungs of my People there.  Even sadder than seeing that multiple family members were hanged in a county is the unknown appearing again and again sandwiched between those named.  It's as though they have been doubly disappeared from the face of the earth.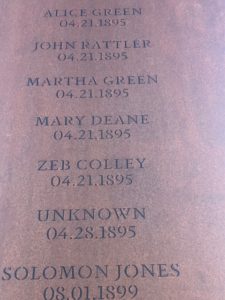 I stand still, acknowledging the lives, the fault lines cut through families and communities by this macabre murdering.  I stand in a mud of sorrow and a rain of gratitude, the Memorial and my presence a testimony that these lives mattered.  When I eventually turn right along the next section, there is a wall of water flowing down, the strength of its softness holding me alongside the hanging rectangles that continue.
College age-looking Black males and females at the Memorial and the Legacy Museum stand ready to provide information.  They are well informed and friendly. I take joy in their presence and knowledge, and that EJI has seen to provide employment and historical awareness to them.
EJI is institution building and witnessing the atrocities of racism that go denied and hushed. On this last day of Kwanzaa, of Imani (Faith), I wish us all more Imani in what we and our communities can do. A pilgrimage to Montgomery, for one.  Ashe.